COME SEE OUR NEW SHOP
POSTED ON 9/5/2015
Our Grand Opening rocked! It was so cool to have classic cars lined up in the lot, friends eating great food from Pockets Grill catering and family present on a warm Tuesday evening in August right at the beginning of one of our favorite local events, Hot August Nights. We are grateful for Geno Martini, Mayor of Sparks, Len Stevens from the Reno Sparks Chamber, Harry Reids office and a representative from Mark Amodei, who were present to support our success. The certificates of recognition and appreciation were icing on the cake after achieving a long term goal for our business in a community we love! Can you believe it has been over 11 years we have been serving our community like family?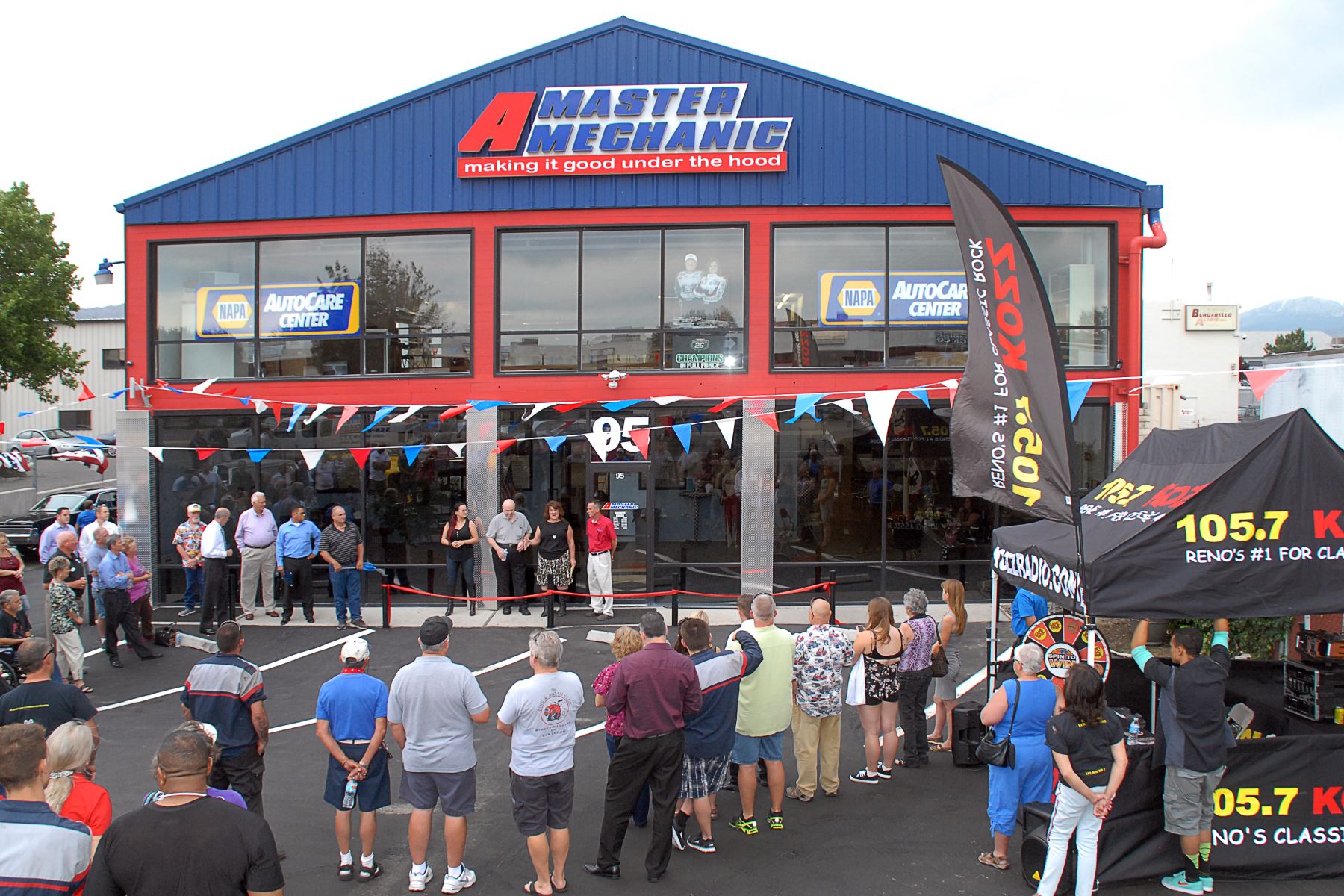 Speaking of family. Our shop is built on family values and community spirit. These guiding building blocks remain strong and support our company's culture. This is the perfect time to thank both family and our community for their support, sweat and tears that helped us get moved into our building this year. Greg, our son worked during the day on cars and at night on the new building with his dad, Jeff. My dad, Tom, spent hours running back and forth while still driving customers, picking up parts, serving lunch daily through the move and all of the other daily duties he has around the shop. Jeff, handled the new building project like a master and worked tirelessly through weekends and evenings to address our businesses needs. So many customers offered help and support, it was incredible. We even have a new foosball table that was donated for the new customer lounge.
Our customers are still finding their way to the new shop and we are grateful for your continued support of our locally owned and family operated business. It takes a great deal to "move" a business, and your loyalty is held close to our hearts. Loyalty. WOW! Let me just share that our employees have been through a pretty rough time this year. They have all been resilient, flexible and strong. During our move to the new building we came across unexpected snafu's with construction, permitting and renovations so they ended up working under some difficult situations to continue to provide the best service we can to our customers. We are ever so grateful for their commitment to quality for those we serve. Jerry, Os, Dylan, Brian, Brandon, & Aaron - Thank you for putting our customers first and working through the move.
This story would not be complete without a shout out to Gina. She is our office manager and all around go to girl. She holds everyone together and through the move did her job without an office for several months! But, the story doesn't end there. Because at A Master Mechanic , there is always more! At the height of our moving process Pat Wright joined our team. Pat is our new Service Manager and has a long history of serving our community through the automotive industry. Pat's resilience and stamina to come into a new lead position two months prior to a move while getting to know our staff and business deliverable was unshakable. We are so happy to have him leading our team and we think you will love how he takes care of you!
So, come see us. October is Brakes for Breasts Month at A Master Mechanic and thanks to a partnership with NAPA Auto Parts we are giving away FREE BRAKE PADS!! We also donate a portion of ALL brake sales to the Brake for Breasts Campaign to find a vaccine for breast cancer.