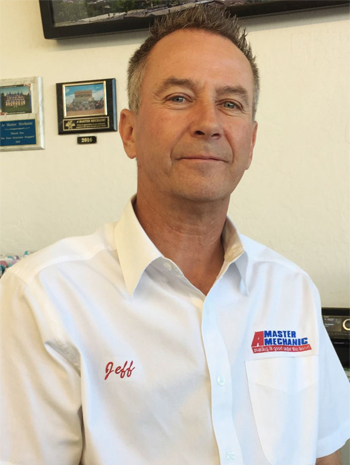 JEFF PHEASANT
Ase Master Certified And Carries A 1g & 2g Certification
Jeff has worked for some of the "Old School Masters" and has built a lifetime of experience from their teachings. It is important to Jeff that customers know we are loyal to them and their cars needs. "we aren't just offering a product for sale. We offer service, knowledge and experience. As a "Hands On" owner Jeff makes sure every employee is provided with monthly opportunities to attend classes and sharpen their skills. He wants everyone he employs to stay up on the newest standards and methods in car maintenance and repair. His passion outside of the shop is "HORSEPOWER." He visits the SEMA show every year (and brings a few employees sometimes) to learn about the newest trends in automotive technology. Jeff loves his family and supports his wife and daughter in their passion-Horses and his son in his passion-Motorcycling. "I Love Horses as long as they're in cylinders!" Is a catch phrase you can hear Jeff repeat around the shop on any given day.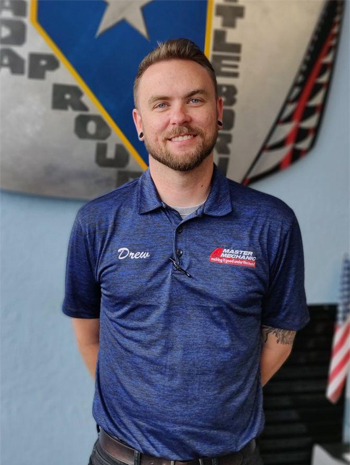 DREW CATES
Service Manager
Drew has been a Reno resident for nearly 19 years, moving here from the San Jose region of California. Drew Joined our family here in June 2018, Bringing with him nearly 9 years of automotive experience as a technician, service advisor and parts advisor from the Subaru dealer. He is a Subaru certified service writer and parts advisor as well as ASE certified in both fields. You'll find in his spare time he enjoys building and modifying Subaru's in his garage or going on fun day trips around the region with his lovely girlfriend and their Pug. With Drew you will find no shortage of automotive knowledge in repairs and parts and he loves sharing all of that knowledge with anyone. Drew is full of passion for this industry and has settled in here nicely with our family here at A Master Mechanic.
MARTY DENNA
Service Advisor
Marty Denna relocated to Reno from Utah in 2014 with the intention of moving back after two years, but life had other plans. Marty joined our family at the beginning of 2018, bringing with him nearly 10 years of automotive experience as a technician and as a service advisor. He is a certified Toyota, Lexus, Subaru, and ASE technician as well as an ASE Certified Service Consultant. With his spare time and money, Marty enjoys fixing "his garbage cars", much to his wife's chagrin. In his garage you'll find a slew of Subaru's ranging from a 1982 Brat to a 2007 Outback. When he's not working on one of his cars, Marty loves being outside with his family, mountain biking, skiing, kayaking, snowshoeing, well… you get the idea. Marty feels like he has found his home in Reno and at A Master Mechanic and no longer has plans to move back to Utah.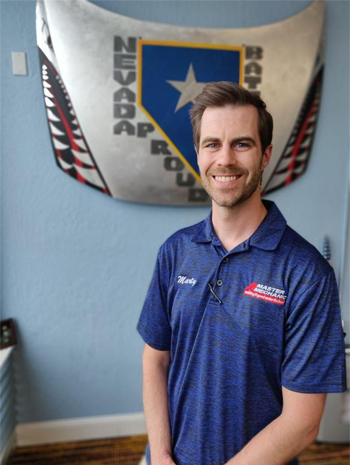 GINA STAMMERS
Office Manager
Gina is a true blue Nevadan born and raised. Hired from the saddle of her horse, she has never stopped galloping to make improvements throughout the shop and for our customers. Recently being awarded Office Manager of the Year by Ratchet+Wrench Magazine speaks volumes for her work. She has been a part of our family for over 7 years now and has truly become a key element to keeping everything in order.
DON RYAN
Technician
Don Ryan was born in Yuma AZ, but has spent the majority of his life in Reno NV. He brings to the table 13 years of experience and is a graduate of Wyotech Technical College. Through the years, he has become an ASE Master, Subaru Senior Master, Level 2 Master Land Rover/Jaguar Certified Technician. Furthermore, he is a 2g licensed smog technician. Don is happily married, so step back ladies. His many hobbies include, radio controlled rock crawling, full size rock crawling, shooting, hiking, camping, and the occasional couch sitting. His cheerful attitude and infectious laugh can always make the shop smile and he has proven himself as an invaluable new family member.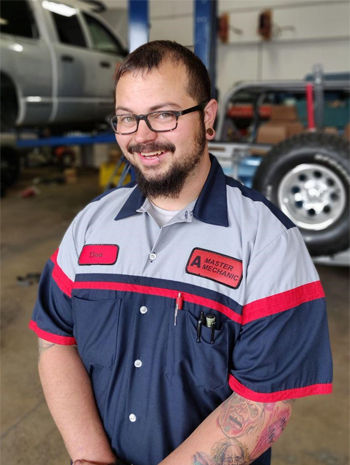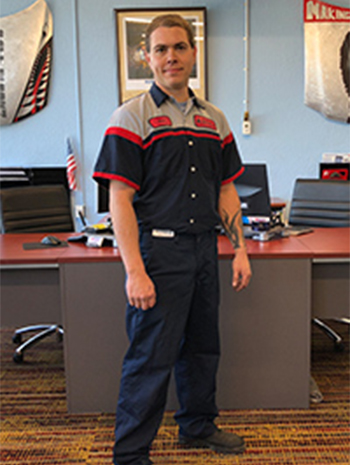 RION ASLIN
Technician
Rion Aslin is from North California. Rion started wrenching at the age of 17 years old. He was trained at Nissan through a two-year internship in High School. Rion and a friend opened their own Automotive Shop and Tow Yard in Trinity County. In 2014 Rion had to leave the company behind and move to Chico. CA for family reasons. In Chico Rion worked for a private shop until he moved to Reno, NV in July and starting with A Master Mechanic.
HUNTER WOLFE
Technician
Hunter has been with us for a couple of years now and has exceeded above our expectations and has been becoming a top notch thorough technician.