WE ARE EXCITED SPRING IS HERE!
POSTED ON 2/25/2014
To all of our valued customers,
Time sure flies when you are busy, and we have been busy this past year! Here comes spring and we are excited to share this next year with all of you! Both personally and professionally 2013 has held lots of GROWTH for us! Jeff and I had been saving for years to someday buy a building of our own, but we have gotten attached to our location. So, instead we invested in making our current location a better place to be and do business for our customers. You can still find us at 2255 Glendale, with a whole new look and a great big sign out front!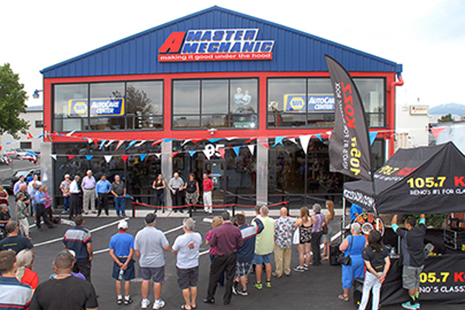 Personally, we welcomed our first grandson into the family. Jayden Jeffrey Pheasant was born on July 30th and continues to grow and bring joy to our family! (He is crawling and working on walking at just seven months old!)
WITH GROWTH, COMES CHANGE AND WE HAVE ADDED SOME NEW SERVICES FOR OUR CUSTOMERS;
WE HAVE AN ALIGNMENT SHOP with a state of the art, Hunter alignment machine. There are less than a handful of these top of the line machines in Northern Nevada. Right now is a perfect time to have your alignment checked - it affects handling and GAS MILEAGE-believe it or not!
CUSTOM MUFFLERS ARE NOW AVAILABLE AT OUR SHOP. Jeff has been designing custom mufflers his whole life, and since we began he has wanted to open up this portion of our business. Well, Jeff's wish has come true . . bring your hot rod, high performance vehicle, classic car or the daily driver in to have us put together a muffler that fits your needs!
STOP IN AND SEE OUR NEW CUSTOMER WAITING AREA - COMPLETE WITH KEURIG COFFEE, MAGAZINES AND MUFFINS! You can still stop in the back to see everyone, but now you have a place to sit, work on your computer and be comfortable! We usually have a community project we are supporting and good magazines to read.
We are revamping our website this year and will need your input. Our goal is to make it more interactive, informative and interesting for you to read. Check it out at www.amastermechanic.com. Drop us a note to let us know what you think!
In 2014 we want to serve you better and more completely for all your car care needs. We THANK YOU for your loyalty to our shop and we embrace you as a part of the family! The last nine and a half years doing business in this community have been rewarding, invigorating and inspiring! Please join us in late May, early June for our Customer Appreciation 10 year party! It will be a great time!
God Bless you and your family this coming year. Remember to take time to enjoy yourself, make memories that will last a lifetime and share your feelings of love with others!
The Pheasant family and staff at A Master Mechanic