WHY HAVE WE GROWN?
POSTED ON 6/5/2014
Just last week Jeff and I returned from the first two weeks' vacation in ten years. And part of it was for work. We traveled to Florida for a Worldpac Expo. We learned more about how to run our business in the BEST manner possible for customers and went to Disneyworld for the first time (We are both in our 50's). We stayed with friends and drove up Coco Beach (Can you say - yes Master?), peered across the water at Cape Canaveral, visited Daytona and ended up at a nice dinner in St. Augustine, after touring the oldest fort in America.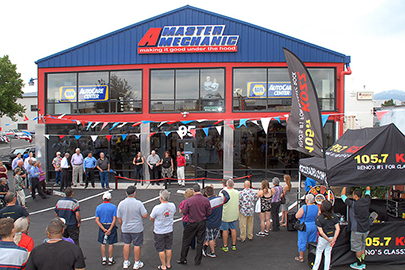 When we were gone - we of course, checked in on the shop and our employees. Everything went beautifully, employees worked together as a team, took care of business and were happy when we returned. All was well, except one thread of communication, in one phone call. We found out a local fellow business owner told one of our customers that we were a "box store" now. You could not have stabbed at our hearts and made it hurt any more than that. We were really blown away by that statement, and from someone we have done business with and respect.
When I thought about it - I was concerned our marketing wasn't clear enough. Jeff and I are locals - we are dedicated to buying local. We always want to be here to serve our community - but we have modeled our business to serve our community BETTER. To us that means running a business that thinks ahead, builds lasting relationships and offers services to all that desire to do business with us. Our marketing is designed to let you know we are old school with new school knowledge. It is professional and we have branded our company using leading edge strategies to set an example and "lift" our industry up.
We never want anyone to think we are a "box store". Yes we have grown because people want our services, customers refer us and we want to serve everyone we can. Jeff and I are still involved in daily operations and we strive to continue to teach and guide our staff to think out of the box and ahead of the curve. Our customers are number one with us and we want everyone to know we care about them like family. We love our community and continue to engage ourselves in the events and people that support us. Our staff is happy to be here to offer their knowledge to assist everyone so they can own a top notch running vehicle.
That being said - please know we believe in the men that have worked their whole lives to know how to diagnosis and fix most problems on 14 different makes - 174 different models of vehicles that can change their application mid-way in the year, requiring additional knowledge. We know the men in our industry are educated and up to date on procedures and processes of over 40 years of new car models being released. You could say they are as educated as doctors - but we don't get to bury our mistakes.
Our technicians attend ongoing training on all of the latest methods and applications and they think of each vehicle as a person. We all know that your vehicle is probably your second biggest investment, next to your house and that you depend on it to get you to work, bring the kids to their activities and to run errands around town. Oh yeah - and to go out as a family or to have fun! This mean you need to depend on it running smoothly, efficiently and sustainably.
We want you to know we area local, successful business that wants to offer the people in their community the best, because we believe you deserve it. And we respect the men that have made the automotive industry their lifetime career path. So when you come to A Master Mechanic, please expect the BEST we have to offer, for every car, every time! We have grown because our community asked for it - and we have delivered!
God Bless and Enjoy the ride,
Shari